Increase student engagement and retention by providing a detailed learning plan after every trial lesson!
To create a learning plan, please do the following:
1) Successfully complete a 30-minute trial lesson with a new student. After the lesson, you will automatically be prompted to create a learning plan with a pop-up screen.If you prefer to skip this, you may return to the session page later to create a learning plan for your student.
2) Go to your Dashboard and click on the session page of your completed trial lesson. You may be immediately prompted with a pop-up screen asking you to create your new student's learning plan.
If you are not prompted, you may create the learning plan manually by going to the Students page and clicking on 3 dots next to the student's name, there you will see the option "Create Learning plan".
3) Based on your professional assessment, choose the student's proficiency level. Then, create a learning plan by suggesting how often your student should take lessons with you and providing detailed comments to encourage your student to book more lessons.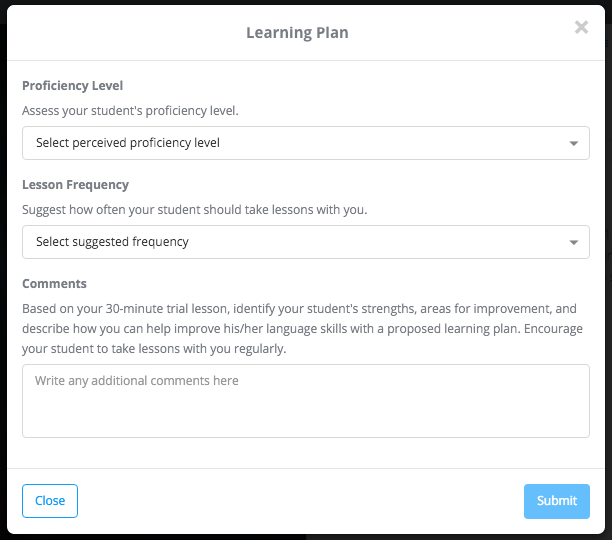 For example: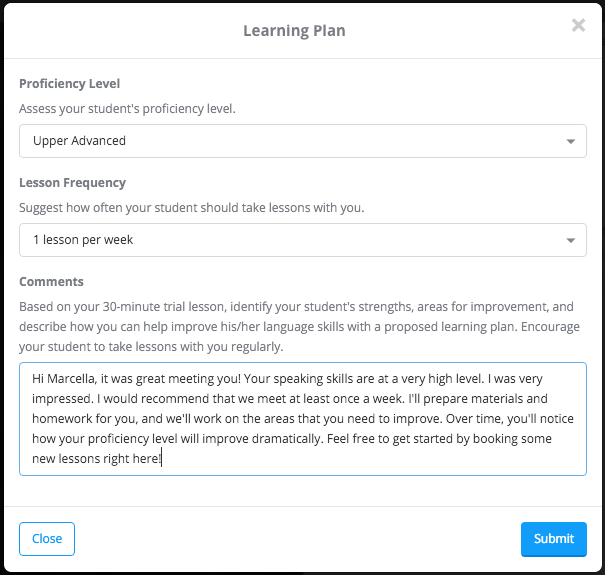 4) Your student will be notified via their messages and e-mail that they received a learning plan from you! Students can book lessons with you directly from the learning plan.