Price locking allows you to adjust your rates individually, without affecting other students.
To see a list of your students and their current rates, go to Teacher Admin Students here.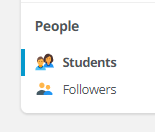 You will see individual single rate for each student: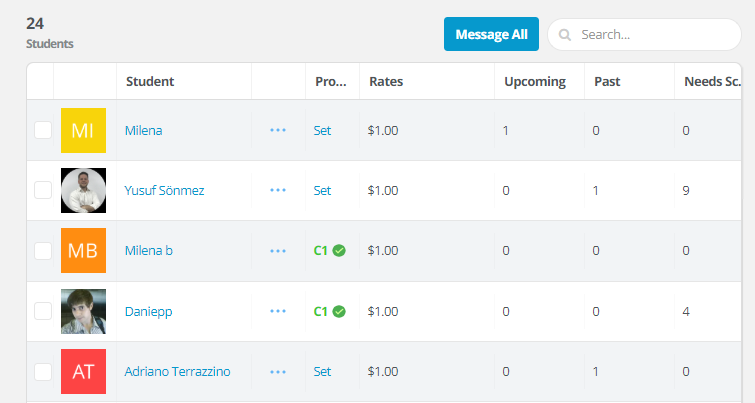 You can lock the single rate for individual student. Bulk price will be counted automatically according to the following discounts:
5 lessons package – 3% discount
10 lessons package – 6% discount
20 lessons package – 9% discount
Locked rates.
To lock the rate, click on three dots near student's name - click "Change rates".

Change individual rate, check bulk rates for this student and click "Save":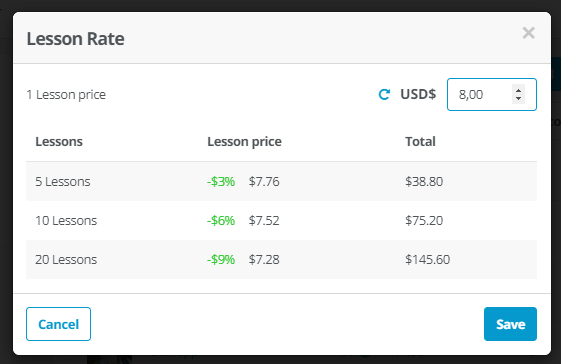 IMPORTANT: Once you've changed the rate, locked rate will be applied to the next student's purchase. Prices for lessons purchased with a previous rate cannot be changed.
The rates on your profile page will be displayed as follows:
Unlocked students will see the general rates you set up here.
Users who are not logged in will see the general rates as well.
Locked users will see the custom rates you choose for them.
Price locking scenarios
Use price locking creatively to achieve the following:
Adjust your rates for new students while keeping your old students at their current rates.
Temporarily lower rates for individual students with special circumstances, such as economic hardship, or to encourage inactive students to book with you again.
Temporarily increase rates for individual students with special circumstances, such as grading essays or reviewing translations outside of your lesson time.
For those of you who don't wish to accept new students, consider temporarily increasing your general rates to raise the price of new bookings but maintain existing students at current rates. That way, you'll only be accepting new students at a much higher price!
Don't forget to communicate rate changes to your students!