Google Calendar
For teachers
We've implemented the ability to sync your Google Calendars with Verbling and vice-versa. You can add your calendars in admin settings. Events in your Google Calendar will be blocked off in your weekly calendar and not available for booking. Your lessons on Verbling will show up in your Google Calendar.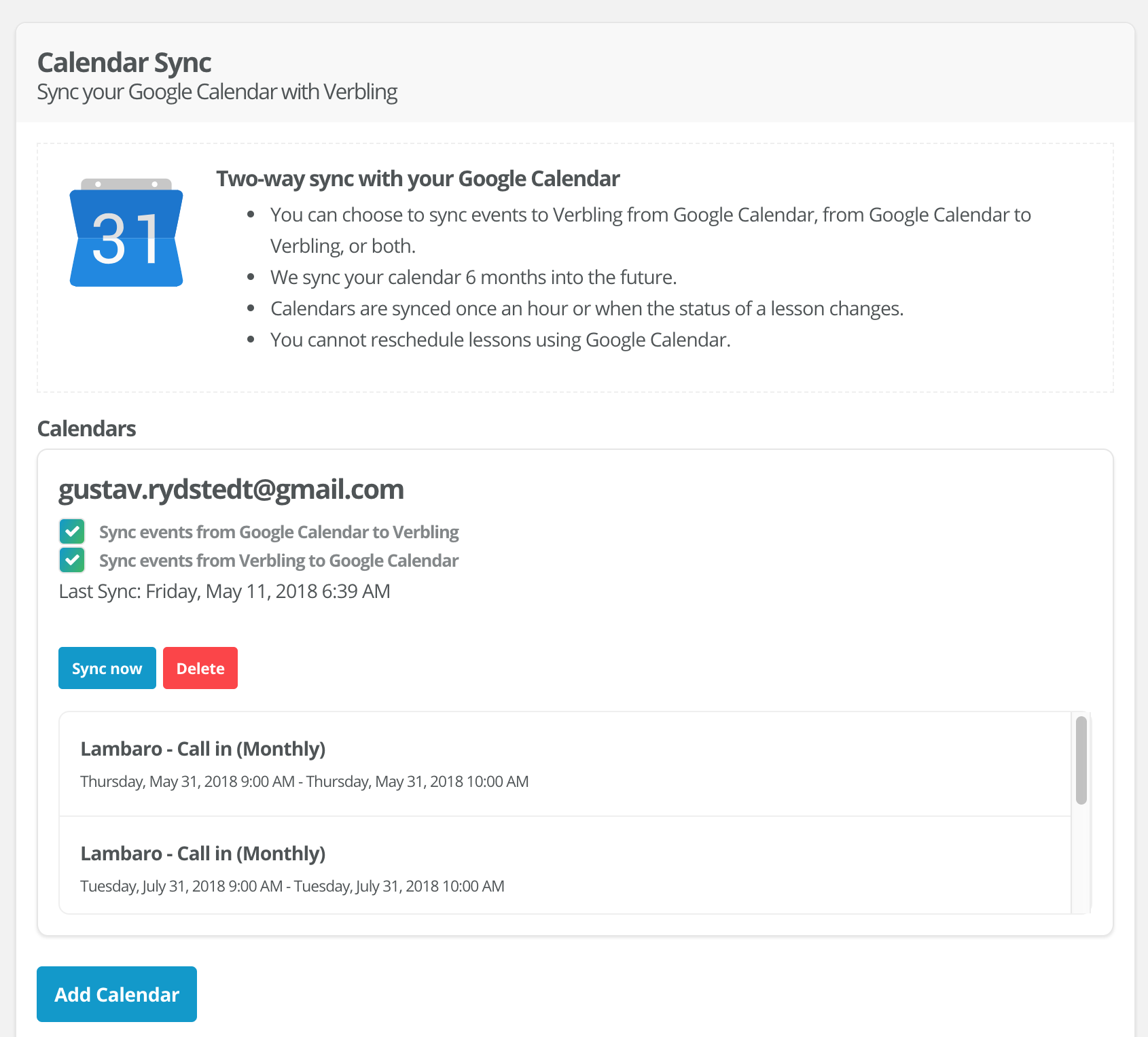 Some important notes:
You can choose to sync events from your Google Calendar to Verbling, or from Verbling to your Google calendar, or both.
We sync your calendar 6 months into the future.
Calendars are synced once an hour or when the status of a lesson changes.
You cannot reschedule lessons using Google Calendar
For students
To add a calendar using its address, follow these steps:
Find "Quicklinks" on the left side of your Dashboard.
Click on "Sync calendar".
Copy the Verbling calendar link
Click on "Google Calendar" icon and follow the instructions for adding someone else's calendar with a link
NOTE: It may take up to 8 hours for changes in ICS feeds to reflect in your Google Calendar.
Other calendars
NOTE: For all the other calendars, only one-way sync is supported. To find your Verbling calendar web address, please see Quicklinks Sync calendar on your Dashboard.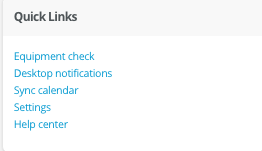 iCal
1) Open the iCal application on your browser, choose File New Calendar Subscription.
2) Enter the calendar's web address
3) Then click Subscribe.
4) Enter a name for the calendar in the Name field and choose a color from the adjacent pop-up menu.
Microsoft Outlook:
1) In Outlook, Choose "Tools" and "Account Settings"
2) In the dialog box that appears, click on the "Internet Calendars" tab.
3) Click on the "New" link.
4) Enter the Verbling calendar's web address
5) Click "Add" when finished and enter a custom name for this new calendar if you want.
6) Click "OK" when finished.
7) Click on your regular "Calendar" link in Outlook to view your default calendar. This new calendar should now be available in addition to your default calendar and can be viewed as an overlay to your default calendar or side-by-side. For more information about viewing internet calendars in Outlook, please read this article on Microsoft's website.
iPhone or iPad calendar:
1) Launch the Settings app on your iPhone or iPad.
2) Tap on Mail, Contacts, Calendars.
3) Tap on Add Account... under the Mail section.
4) Tap on Other.
5) Tap on Add Subscribed Calendar under the Other section.
6) Enter the Verbling calendar's web address
7) Enter any username, password, or SSL info you need to. Most times you don't have to with public subscriptions. When you are finished, tap on the Done button in the upper right hand corner.
8) That's it, the subscribed Calendar will now show up in the Calendar app.