You are prompted to rate the lesson at the end of every 60-minute class. Once your teacher clicks the "End Lesson" button and the lesson's state changes to "Completed", an option to rate your teacher will appear in the lesson space. It looks like this: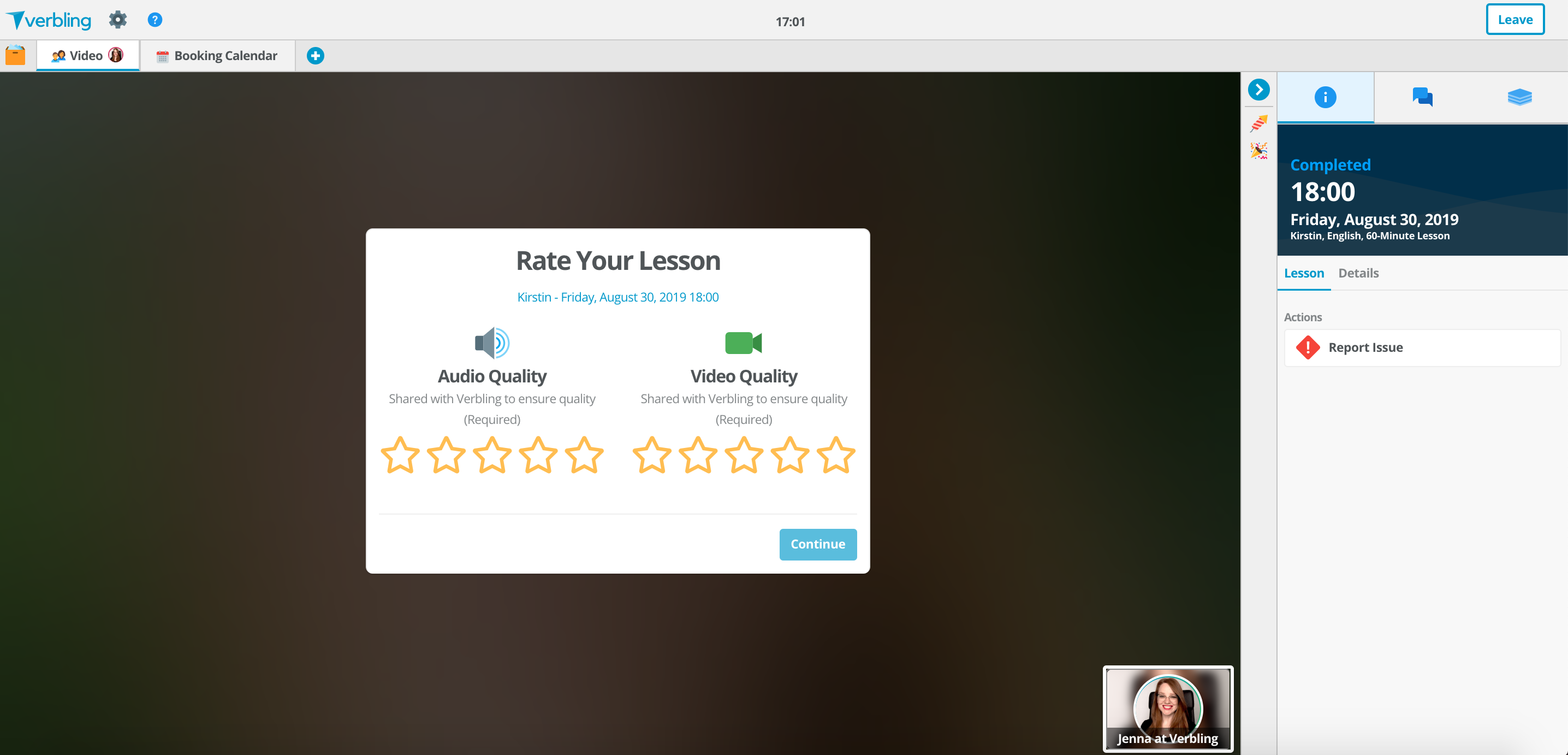 Please note: You are not able to leave ratings for 30-minute trial lessons, and will not be prompted to do so.
Rating a lesson includes:
1. Audio/Video rating
2. Teacher Rating
3. Comments for the teacher that will be visible on teacher's profile
4. Compliments.
Important: You'll be able to rate the teacher and leave comments only if you rated audio and video with 3 or more stars. We made it to ensure bad connection quality won't affect teachers.

If you leave the lesson space without rating it, you can always re-open the lesson later and you will still see the "Rate Your Lesson" screen, as shown above.
Additionally, if you leave the lesson space without rating the lesson, you'll receive a notification on your Dashboard under the bell icon, reminding you to do so, like this:

Lastly, if you enabled email notifications, you'll also receive an automated email reminder prompting you to rate your lesson.
Possible reasons why you don't see the "Rate Lessons" prompt
Your lesson started more than 10 minutes late or you didn't attend the lesson on Verbling's platform. Only lessons that show that both the teacher and student attended the lesson on Verbling's platform are able to be rated. The lesson must have been started within 10 minutes of its scheduled time.
Your lesson was a 30-minute trials. 30-minute trials are not rated.
You gave audio/video scores of 3 stars or fewer. If you rate the audio/video poorly, you are not able to leave additional feedback (the teacher rating, comments, and compliments prompts will not appear). This is to avoid students rating teachers poorly due to audio/video performance.
Your teacher never clicked "End Lesson" and/or the lesson is not in a "Completed" state.
IMPORTANT: Once the rating is done, you will not be able to edit it. I.E.: Even if you rated Audio/Video with more than 3 stars, but finished rating without adding comments/review for the teacher, you can't go back and add it later. Please carefully fill in all reviews.