You might want to create a coupon for a special promotion or to offer a student a discount off the cost of a single lesson with you.
NOTE: To give your student a refund for a missed lesson or a lesson where you or the student experienced technical difficulties, do not issue a coupon. Instead, see "How do I give my student a refund?" for details.
To create a coupon, please do the following:
1) Go to your Teacher Admin page by hovering over your name on the upper right hand corner of the page and clicking on "Teacher Admin".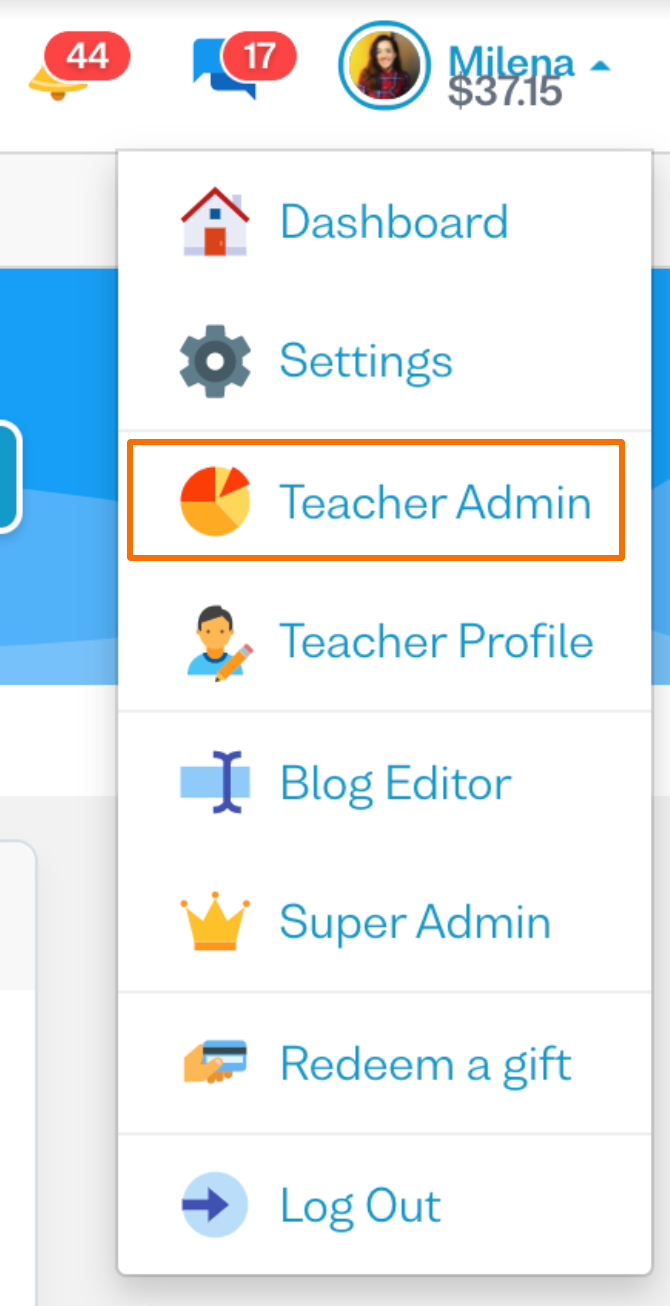 2) On the far left side of your screen, under "TOOLS", click on "COUPONS".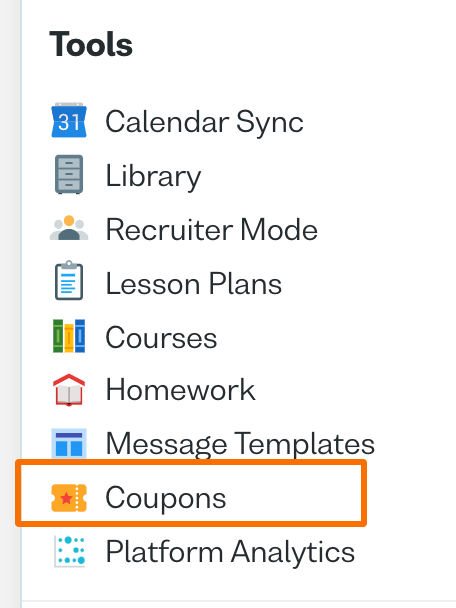 3. Click the blue "New Coupon" button.
4. Name your coupon in the "Coupon code" field, and specify a percentage discount you wish to offer in the "Percent off" field.
NOTE: Your coupon code is case-sensitive and must be created in lower-case digits.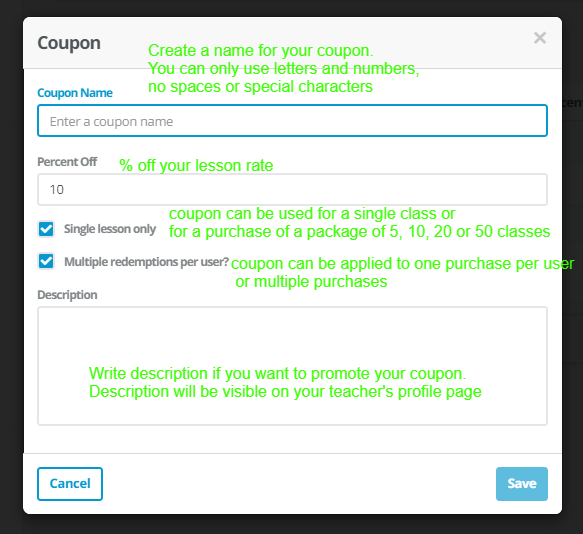 NOTE: Coupons do not have expiration dates. To expire a coupon, you must manually uncheck the "Active" check box to make the coupon inactive, and no longer valid for a discount.
5. Click "Save".

7. To share the coupon with your student, provide him or her with the name of your coupon code. Remember that it is case sensitive. If your student has not used a coupon before, direct your student to follow the instructions here.
NEW:
You can attract more students by promoting coupons you've created! You may select any one of your coupons to feature on your teacher profile.
1. Click the "Promote Coupon" button next to the coupon you wish to display on your teacher profile.

2. Then, your selected coupon will be featured on your teacher profile. Students may either manually enter the coupon code on the checkout page or simply click the "Apply Coupon" button to be taken to the checkout page and have the coupon automatically applied.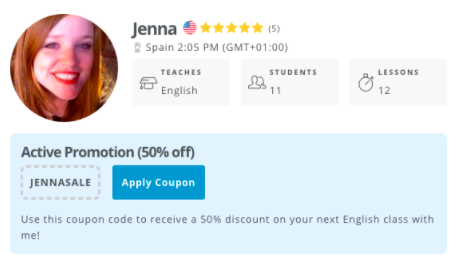 NOTE:
You may share the same coupon with more than one student if you wish to create a special promotion for your students, for example. Note, however, that students could potentially share your coupon code with friends on Verbling, so share wisely. When in doubt, make a coupon inactive after its initial, intended use.
Verbling subsidized promotions:
From time to time, Verbling runs promo campaigns giving students a discount coupon. This increases purchases from existing students and attracts new students. Students will see your rates as discounted. However, nothing changes for you: the discount in this case is always covered by Verbling and you receive your usual payment.
You might see it showing on your teacher's profile page like this: