On rare occasions, teachers may have personal or technical issues that prevent them from making your lesson.
To resolve the situation where your teacher missed your lesson, please do the following one or more hours after your lesson was supposed to begin:
1) Go to your Dashboard.
2) Locate the lesson your teacher missed. Your lesson may be on the first page of your Dashboard; if not, search for your lesson by clicking on the "All" dropdown and selecting the "Incomplete" filter.


3) Click on the incomplete lesson.
4) Click on the little arrow and choose "Report issue to Teacher" 

5) In the pop-up screen, check the check box next to "Teacher was absent".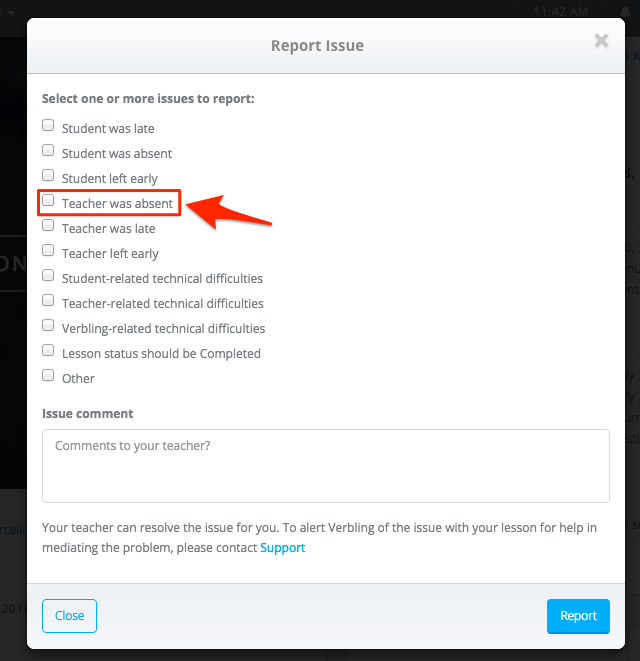 6) Optionally, include comments about the situation. These comments will be communicated to your teacher.
7) Click "Report".
8) Your teacher will have 48 hours to resolve the issue.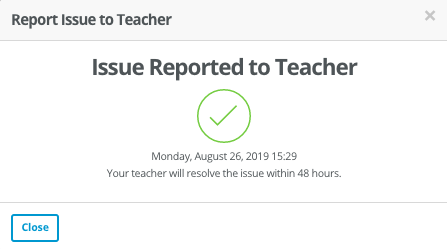 NOTE:
1. If you report an issue with your lesson, but do not file a support request, then the Verbling Support team will be unaware of any issue that happened until a support request is filed. Our team is never notified of issue reports until a teacher or student reaches out to our team directly.
2. If you report an issue with your Verbling lesson and your teacher does not resolve it within 2 business days, please reach out to our team so we are able to resolve your issue report for you!