You should cancel lessons with a student only under extreme circumstances. It is recommended to personally communicate with the student via message about the cancellation.
If you cancel a lesson, you forfeit pay for this lesson and your student will receive a 100% refund of the lesson's cost in Verbling credits. This doesn't depend on how much in advance you cancel the lesson, student will always receive a 100% of a refund.
If you prefer to simply reschedule or indefinitely unschedule a lesson with a student's permission, please see "How do I reschedule or unschedule a lesson with a student?"
To cancel your lesson, please do the following:
1) Go to your Dashboard.
2) Find the lesson you want to cancel, click on the little arrow and choose "Cancel".

Alternatively, you can open your lesson and find the "Cancel" option under "Actions"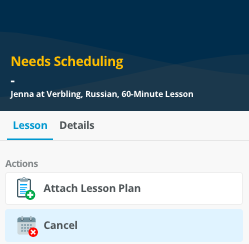 3) In the pop-up screen, write reason for cancelling the lesson and click "Cancel Lesson".